Tue, 15/03/2022 - 5:33pm
If you wonder what the best places to stay in Fiji for young couples are, here is our selection of the top 5 resorts for a romantic island escape! Let us bring you one step closer to tropical romance and magical memories with your better half.
Coming up:
1. Lomani Island Resort - Mamanuca Islands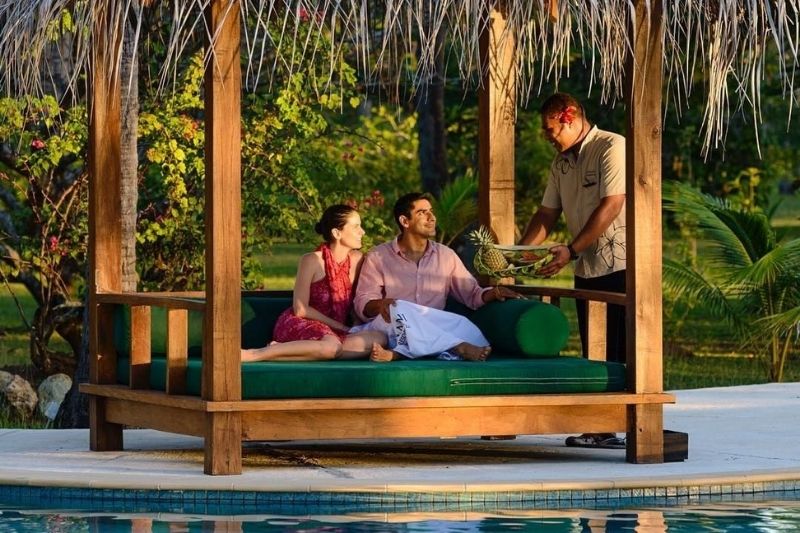 Lomani Island Resort. Image credit: @idofiji
Located on stunning Malolo Lailai Island in the Mamanucas, Lomani Island Resort is an adults-only haven. Luxurious yet affordable, it's one of the best cheap places to stay in Fiji and probably the best Fiji island for young adults looking to save money on their tropical holiday. The gorgeous accommodation surrounded by lush bougainvilleas and white sandy beaches wears its name well. "Lomani" means love in Fijian and this place is indeed the perfect tropical escape for couples.
The fabulous resort features a 7km private beach and breathtaking views of the pristine lagoon, the perfect setting for a romantic walk at sunset. Lomani Island Resort is also ideal for active couples with plenty of things to do - the resort organises surf and fishing trips, island hopper tours, daily snorkelling trips, as well as cultural activities like basket weaving lessons. You will also have free use of snorkelling equipment, glass-bottom kayaks, bicycles and much more, to explore the beauty of the island at your own pace. After a day of adventure, dine under the stars at Flame Tree, Lomani's restaurant for a true taste of Fiji.
2. Sofitel Fiji Resort & Spa Hotel - Denarau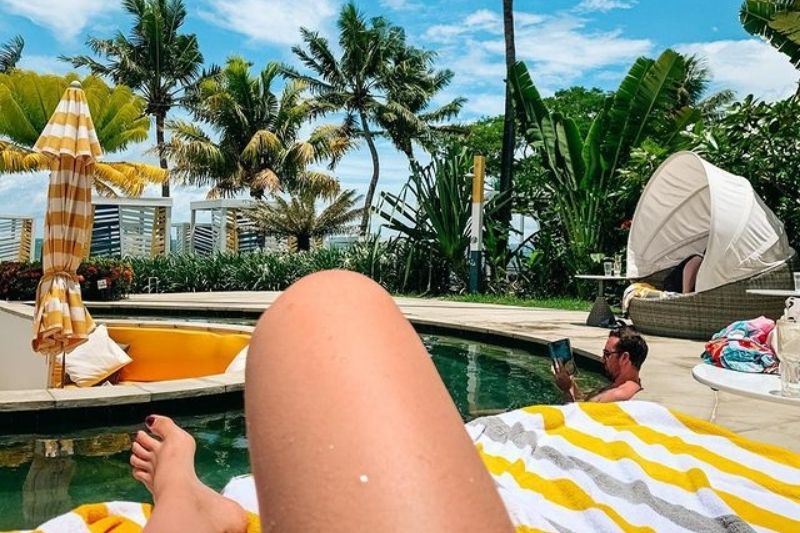 Sofitel Fiji Resort & Spa Hotel, Denarau. Image credit: @bitesoflife__
Sofitel Fiji Resort & Spa Hotel in Denarau is the perfect place to stay near Nadi, Fiji for young couples looking for the perfect
tropical holiday
. Its stunning beachfront location and multiple services and amenities allow you to enjoy a luxurious 5-star island stay with the convenience of being located on mainland Fiji - offering easy access to activities such as the 18-hole Denarau Golf Club right next to it.
The beautiful resort has been recently renovated and now offers an on-site night club to dance the night away, a rum bar on the beach, a new interactive buffet restaurant with 6 live kitchens, an adult poolside fine dining experience, and a new hair and nail salon located in the existing day spa. Sofitel Fiji Resort & Spa also features a lagoon-style pool and free access to snorkelling equipment as well as a total of 4 bars and 3 restaurants to choose from. Or even better for couples, you also have the option to have a candlelit dinner overlooking magical Nadi Bay or order in-room service!
3. Barefoot Manta Island Resort – Yasawa Islands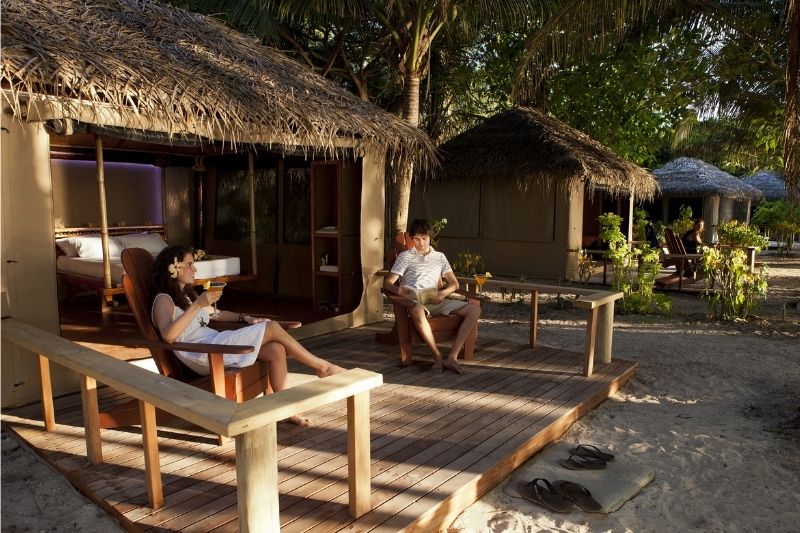 Barefoot Manta Island Resort. Image credit: Barefoot Manta
Barefoot Manta Island Resort is the perfect resort for young couples wanting a secluded holiday in an authentic Fijian atmosphere. Located in the beautiful Yasawa Islands, the resort is accessible only by boat or seaplane and is about a 30-minute flight away from Nadi. The breathtaking scenery of this untouched remote paradise makes this resort one of the best places to stay in Fiji by the water and offers couples the opportunity to escape to their own tropical oasis.
This eco-friendly resort is home to a manta ray research station and offers amazing diving and snorkelling. You can take diving lessons, go on a visit to nearby Fijian villages, go kayaking or hiking, and you can even arrange to meet with the marine biologists who study the manta rays. All bungalows at Barefoot Manta Island Resort are set on the beach which means you will be able to sleep listening to the sound of the waves and get up to an amazing view every day! All in all, Barefoot Manta Island Resort is the perfect stay for nature lovers and one of the best islands in Fiji for couples.
4. DoubleTree Resort by Hilton Hotel Fiji - Sonaisali Island – Coral Coast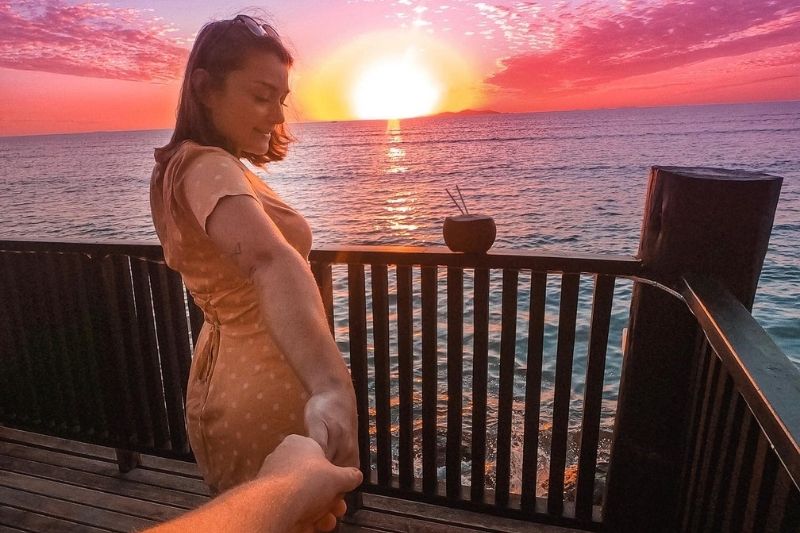 Sunset at DoubleTree Resort by Hilton Hotel Fiji - Sonaisali Island. Image credit: @walkwithsarah
Overlooking the stunning Mamanuca Islands and located less than 30 minutes from Nadi International Airport, in one of the best areas of Fiji to stay, the Coral Coast, DoubleTree Resort by Hilton Hotel Sonaisali Island offers everything needed for the most romantic holiday. The luxurious rooms all offer ocean views, and you will also benefit from the resort's private beach access where you can enjoy the most magical Coral Coast sunsets.
Relaxation will be the main theme of your stay with full-service day-spa and in-room spa services. The beachfront hotel has everything you need and features poolside dining, a swim-up bar, a village deli, tennis courts and a fitness centre. If you are an active couple, the resort also offers an array of activities such as cultural experiences, tours of the island, watersports, and even paintballing.
5. Hilton Fiji Beach Resort & Spa - Denarau
Date night at Hilton Fiji Beach Resort & Spa. Image credit: @adellecerna
Hilton Fiji Beach Resort & Spa has everything a paradisiac holiday can offer and is one of the top places to stay in Fiji. Couples can unwind and enjoy the tropical weather in a relaxing Fijian atmosphere by one of the 7 swimming pools (!) including an infinity pool overlooking the beach. This fabulous 5-star resort also offers an exclusive adult-only area for an even more relaxing experience with a pool bar, live music and all-day dining. It is located 20 minutes from Nadi Airport and is walking distance from the Port Denarau marina with its many restaurants as well as a golf course.
All in all, a great location for couples wishing to make the most of their holiday with the added option to also experience the Mamanuca Islands on a cruise departing from the marina. However, the resort already has everything you need for a luxurious and relaxing holiday with an award-winning day-spa, on-site stores selling food and beverages, 2 restaurants, a French café, and even a private beach where couples can enjoy magical sunset dinners facing the pristine waters.
Where will you stay in Fiji?
Will you get tempted by romantic beach glamping in a traditional bure or the comfort of a luxurious resort? No matter if you choose to stay in the remote Yasawa Islands, the convenient and beautiful mainland or the stunning Mamanuca Islands, Fiji has everything a young couple needs for a romantic tropical holiday.
Other Travel Articles You Might Like...