40 Best Travel Destinations in the World According to Flight Centre Customers
Wed, 27/04/2022 - 1:44pm
Although COVID hasn't disappeared from our lives quite yet, more and more places are opening up for Kiwi travellers and since Flight Centre is turning 40 this year, we thought we'd give you a list of the best 40 travel destinations for 2022!

This list is world-class, it's for all history buffs, for all white sandy beach lovers, for those who love nothing more than roaming through art galleries or those who love tasting their way around the world's best food, and for those who just want their socks knocked off by the beauty of UNESCO world heritage sites, breathtaking views and the best natural landscapes. You know it, this list is for all travel lovers!
What Destinations can New Zealanders Travel to Right Now?
Most of the destinations we're about to list are open to Kiwis but with varying degrees of openness! Whether you need to have a pre-departure test, a test on arrival, forms to fill, a short quarantine, a vaccination pass, etc, there are definitely rules and regulations so the best thing to do is to check all the latest info on current travel restrictions here.
At the time we're writing this blog, some destinations are still closed to us and things do change fast so make sure you check out our Help Centre and our interactive map as well.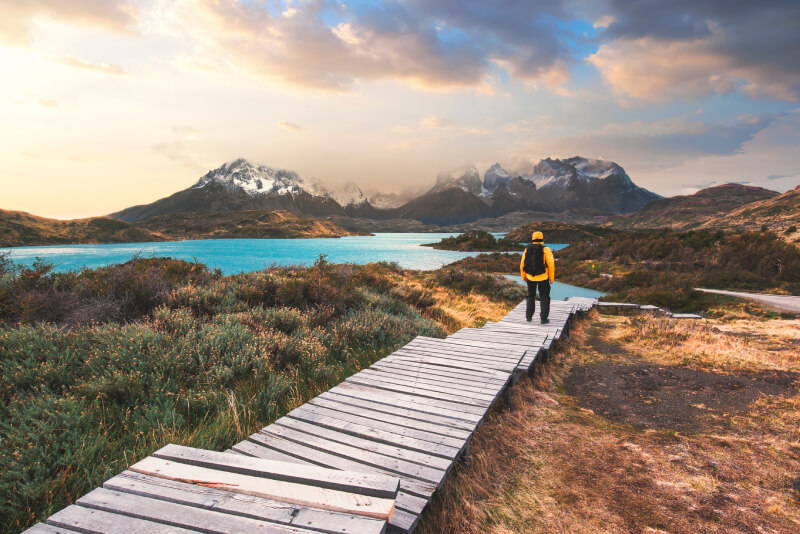 Torres del Paine National Park, Patagonia, Chile. Image credit: Getty Images
Our top 40 best travel destinations for 2022
40. Cancun, Mexico
Cancun is where the sights and smells of Mexico meet the partying Caribbean, and the ancient Mayan monuments meet sandy white beaches! Good to note that hotel prices become more reasonable once the Spring break crowds disperse through April. But don't leave it too late: hurricane season rolls in from July to October.

39. Portugal
A great vacation spot in Europe if you're looking for more of a niche destination, than the usual France, UK or Italy! Make sure you visit the capital city of Lisbon, filled with history and charm. And did you know that Lisbon is older than Rome? Roughly four centuries older to be more accurate.

It was settled by the Phoenicians around 1200 BC and it's the second oldest European capital after Athens! And while in Portugal, you have to try Portuguese custard tarts ("Pasteis de nata") – delish!
Related: Read our blog about island hopping in The Azores Islands in Portugal.
38. Egypt
Exploring the land of the Pharaohs is epic. And while it is amazing to connect with one of the world's oldest civilisations by visiting the temples, tombs and pyramids placed reverently along the banks of the Nile, modern Egypt is also intriguing. Home to a population of 21 million, greater Cairo is easily the biggest city in Africa and the Middle East.

Its popular shopping district, the Khan el-Khalili bazaar, has been attracting hagglers since the 14th century and gets more interesting the further you wander into its narrow alleyways. Here you'll find authentic exotic goods amid all the hustle and bustle of a genuine Egyptian bazaar experience.

37. Chile
Chile is the longest country in the world, spanning across 4,300km! This means the landscapes vary hugely from top to bottom – from the Atacama Desert in the north, which is the driest desert in the world, to the Southern Ice Fields of Patagonia, which is not so far from Antarctica! If you're looking for naturally beautiful scenery, make sure you go to Torres del Paine, famous for impressive mountain peaks, epic glaciers and emerald lakes – a great place for hikers and adventure lovers.

The enigmatic Easter Island (or Rapa Nui) is also part of Chile and a UNESCO World Heritage Site. It's definitely off the beaten track though being 3,700km off the Chilean coast, but there are some amazing tours that will take you to witness the mystical stone moai (monolithic statues), the island is so famous for.

36. Turkey
Turkey provides you with a unique meeting point between Asia and Europe. For centuries, cultures of both continents have found a way of living and thriving in this land of myriad experiences. From the sandy beaches of Antalya on the Mediterranean coast, to the ski fields of Anatolia and the mosques, churches and thriving street food and art scene of Istanbul, Turkey has a lot going on.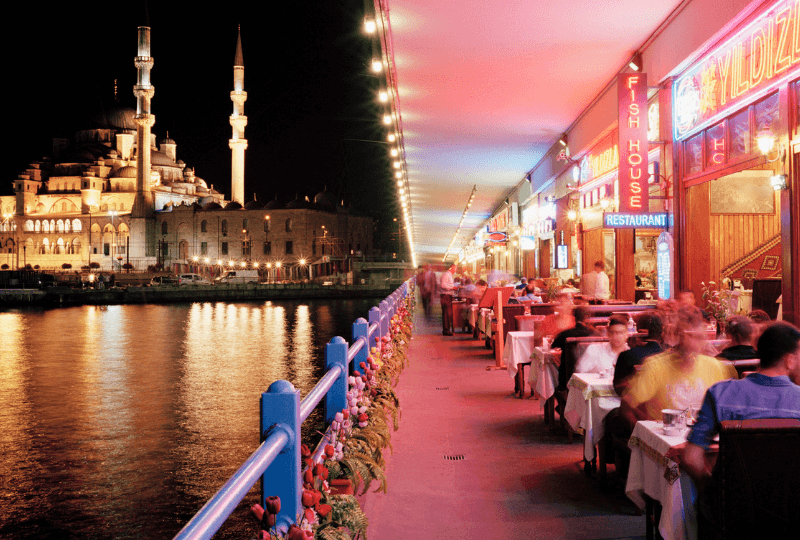 Istanbul, Turkey, Galata Bridge with Yeni Cami Mosque in the background. Image credit: Getty Images
35. Amsterdam
Both Amsterdam and The Hague have the honour of being the capital of the Netherlands. It's a complicated relationship, but the ever-resourceful Dutch make it work. So, while the serious business of legislation and governance is left to The Hague, Amsterdam has the fun job of being the nation's cultural capital and home to its eclectic food and art scene.

Its quirky museums are a highlight. What to visit first: the Cheese Museum? The Museum of Bags and Purses? or De Kattenkabinet (the Cat Cabinet)?

34. South Korea
Home of K-Pop and Kimchi, South Korea is a great destination where the food is as good as the people are friendly. When in Seoul, the ultra-modern capital city of South Korea, go up the N Seoul Tower for awesome views of the city, then head to the hiking trails of Namsan Park at the bottom of the tower. Make sure you also visit the National Museum of Korea where you can learn about Korean history and culture.

Outside of Seoul there is plenty to see, Jeonju for example is a great historic city with temples and traditional homes to explore; or venture to Seoraksan National Park, one of Korea's most beautiful and iconic parks, with stunning mountains, lakes, caves and streams as well as some Buddhist temples set in some naturally beautiful surroundings.

33. Brazil
Ok this is a huge country (at a mere 8.5 million km²!!) so very hard to sum up in a small paragraph! Start off with Rio de Janeiro of course, and see the iconic Cristo Redentor (Christ the Redeemer statue), then stop for a caipirinha (or 2) at legendary beach, Copacabana.

If you want to get off the beaten track in Brazil, go on an adventure and explore the Pantanal, which has become one of the country's most popular wilderness destinations for its tropical climate and abundant wildlife including beady-eyed macaws, jaguars, capybaras, tapirs, capuchin monkeys, green anacondas and much more!
Related: Read our first timer's guide to Brazil.

32. New Caledonia
With its massive UNESCO world heritage lagoon and coral reefs, New Caledonia is a diving paradise. Although the archipelago is on our doorstep, its mix of French and Indigenous Kanak culture make it a popular getaway for those wanting to sample a fresh perspective without travelling far.
Related: Read our blog about the best things to do in Noumea.

31. Peru
Obviously the first thing on your Peru travel list is to go to Machu Picchu, the 15th century Incan citadel set high in the Andes Mountains. Another cool thing to do in Peru is to check out the stunning natural pools of Millpu in Ayacucho, with about 20 pools of the most turquoise water you've ever seen!

The capital city, Lima is also definitely worth a visit with tons of museums and some amazing eateries, some even say the best in South America – and make sure you try ceviche, Peru's national dish!

30. Bangkok
If you're looking for hustle and bustle, you've come to the right place! Bangkok is Thailand's busy capital city and is an awesome destination if you're looking to live it up like a king without breaking the bank. The floating markets are a must of course, and so is eating your way through the endless street food stalls of Bangkok!

There are many temples to visit, but one of the most famous is Wat Pho, the Temple of the Reclining Buddha, where you'll find a huge golden buddha statue lying on its side - hence the name! The Grand Palace is also worth checking out, one of the most beautiful places in Bangkok, which used to be the home of the Royal Family from 1782 to 1925 – just make sure you check out the dress code before visiting as there are some rules.

29. Ho Chi Minh City
Hectic and vibrant, Vietnam's largest and southern-most city is best seen on foot. Ho Chi Minh City might seem an impossible task to cross busy streets buzzing with a thousand motorbikes, but you'll soon find yourself doing as local pedestrians do and cross at a steady pace as all the two-wheeled traffic weaves smoothly past you.

Top visits include the War Remnants Museum and the ornate French-built Saigon Central Post Office.
28. The Philippines
Being an archipelago of over 7,600 islands, it's no surprise that the Philippines have many spectacular beaches and all the swimming, diving, paddling, surfing "aquivities" you could imagine. The Philippines' unique and complex mix of ethnicities make for a culture and cuisine that's rich and colourful.

This is exemplified by the playful paintwork on its Jeepneys – ex-World War II jeeps craftly adapted into buses that have become a national icon.

27. Mauritius
Sandy beaches, coral reefs and craggy peaks that brush the sky give Mauritius that dreamy quality so eagerly anticipated in a tropical vacation spot. And for an island no more than 50km in length, Mauritius has plenty going on.

From sky-diving, to street markets, zip-lining to swimming with dolphins, boutique hotels to mountain biking, a holiday in Mauritius comes in many flavours.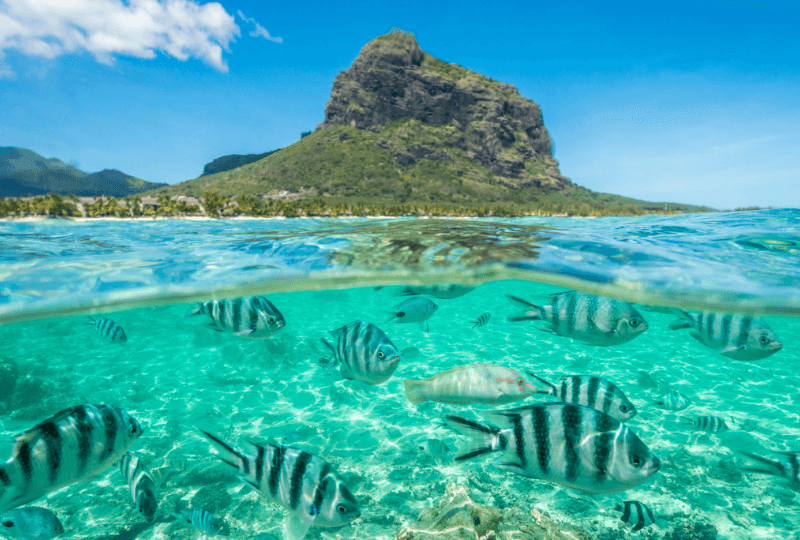 Amazing snorkelling in Mauritius. Image credit: Getty Images
26. Dubai
Voted a top destination for 2022, Dubai began life as a small fishing village on the shore of the Arabian Gulf before blossoming into a global financial hub of luxurious hotels, high-end shopping, and the world's tallest building (Burj Khalifa at 828m).

Dubai is an oasis of light and nightlife where desert meets the sea, mosques meet malls and cultures from all over the world greet and mingle.

25. Athens
From its ancient heart around the Acropolis to swanky inner-city districts such as Kolonaki, a visit to Athens lays bare the span of Western civilisation. A paradise for history buffs, the city's streets are open museums of the art and architecture of countless eras: classical Greece and Rome, the Byzantine age and the Ottoman conquest.

The tumultuous history of the birthplace of democracy and modern philosophy serves as a stark reminder of Europe's unending quest for peace and stability. But never fear, you can quickly restore your holiday spirit just as the ancients did, and head for the Greek Islands!
24. Argentina
Home to stunning natural wonders like Patagonia or Iguazu Falls, famously friendly locals and one of the most exciting capital cities in the world, Argentina should be on every traveller's must-visit list. Start in Buenos Aires of course, where you'll fall in love with Tango, be amazed at the colourful area of La Boca and enjoy the best steak you've ever had in the San Telmo neighbourhood.

Argentina is also famous for its wine, and there are several wine regions you can explore – from Salta, the newest wine region in the country to Mendoza with vineyards as far as the eye can see, where you can find some of the best Malbec wine in the world!
23. Rome
Italy's ancient capital is full of history, culture and, of course, food. Travel back in time with a visit to the Colosseum, one of the largest amphitheatres ever built, the Pantheon and the Trevi Fountain. Within Rome, you'll also find the world's smallest city, the Vatican, blessed with the Sistine Chapel and its harmonious Renaissance architecture.

22. London
The perfect mix of old and new, London has something for everyone. Discover the brutal history of the Tower of London and take a walk along the vibrant South Bank. Admire the views of the city's iconic skyline from Greenwich Park and be sure to ride a double-decker bus while you're there. If you love art galleries - from the National Gallery to the Tate Modern - you will be in art heaven!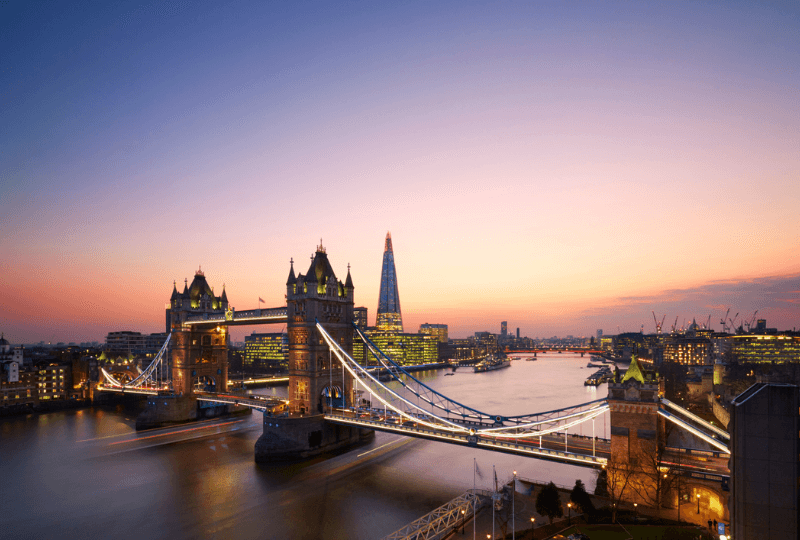 London Bridge looking fly. Image credit: Getty Images
21. Paris
In pre-pandemic times Paris attracted over 30 million overseas visitors a year, making it perhaps the most visited destination in the world. No wonder then that so many of its sights and attractions are the centre-piece of so many brag-worthy travel stories: the Eiffel Tower, Norte-Dame Cathedral, the Louvre, the Arc de Triomphe, the Opera…the list goes on!

20. Spain
In this land of party lovers, you'd have to be hiding under a giant ladrillo not to be caught up in the revelry of a Spanish festival. From the La Merce festival in Barcelona to honour the city's patron saint, to Madrid's summertime San Cayetano festivities, plus throwing tomatoes at La Tomatina, or a wine fight at the Haro Wine Festival, Spain is a sea of celebration.

19. Tokyo
Big, busy, flashy, traditional, modern and quirky – Tokyo has many faces. Get into otaku culture and check out the anime and manga specialty stores in Akiba near the city centre. For the best seafood and sushi restaurants head to the districts of Tsukiji or Ginza, or take an inner-city breather in the tranquil Hamarikyu Gardens.

18. New York
New York needs no introduction but since we're writing a list of must-visit places in the world, we couldn't leave it off! You simply must go to the Statue of Liberty, the Empire State Building, the Brooklyn Bridge and Times Square to make sure you populate your Instagram with the correct type of content.

Once you've done that, add a few Broadway shows on top, some shopping at Macy's on the side and sprinkle with a generous melange of museums – from the Met (Metropolitan Museum of Art) to MoMA (Museum of Modern Art), The Guggenheim and everything in between – and voilà, you have the perfect recipe for a successful New York trip!

17. Switzerland
Donkey trekking isn't something you'd normally associate with this iconic alpine enclave of neutrality, watchmaking and chocolate. But in an age of eco-tourism and authentic experiences, learning "donkey knowledge" and taking the kids bare-back along winding trails in places such as the mountainous Toggenburg region is a fantastic way to experience Switzerland. You'll also make friends with some of the most good-natured creatures on the planet.

16. Hong Kong
With more skyscrapers and multimillionaires than New York, the Hong Kong skyline is impressive. Long a financial hub at the foot of an enterprising China, the city oozes confidence, wealth and all the trappings of a hyper-modern city. Hong Kong's outlying hinterland reveals many ironies – particularly the 34-metre bronze Buddha that invites onlookers to free themselves of material desire as it sits sedately beside Po Lin Monastery.

15. Phuket
Thailand's largest island is a beach-goer's paradise famous for its bluffy, steep islets, sandy beaches and party atmosphere. The southern beaches of Phuket are often crowded, so if you like a bit of tranquillity with your siestas on the sand, head for the northern end.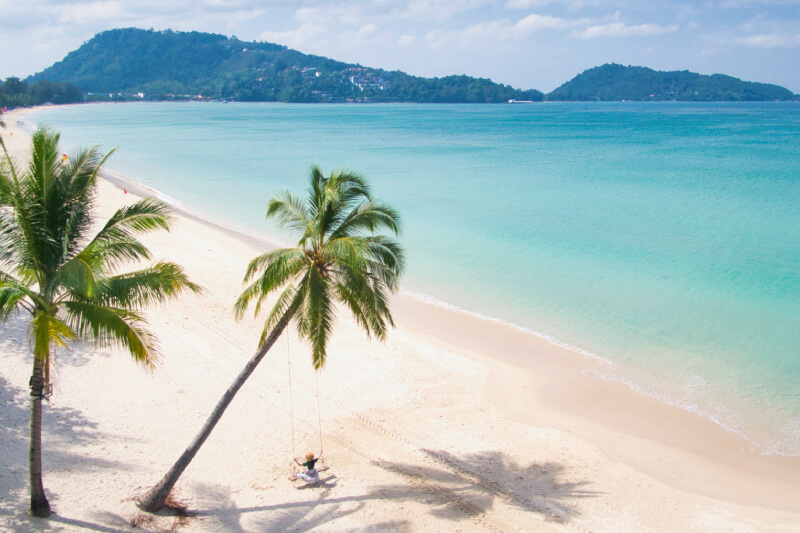 Patong beach, Phuket, Thailand. Image credit: Getty Images
14. Vanuatu
With 83 islands awash with lush beaches and dominated by active volcanoes and a people alive in their untainted kastom or culture, Vanuatu is an adventurer's dream. From kava to lava, and blue holes to the blue lagoon, your journey of discovery will never stop.

13. Singapore
Visiting the Lion City off the southern tip of Malaysia generally isn't cheap. But the food is – you can even devour the world's cheapest Michelin-starred dish in an unassuming hawker centre. Singapore is notoriously clean and orderly. Watch out for strictly enforced laws against spitting, jaywalking and connecting to someone else's Wi-Fi!

12. Vancouver
British Columbia's bustling but beautiful urban heart on Canada's west coast offers both metropolitan magnetism (read coffee, art, foodilicious eateries and nightlife) and stunning vistas. As it's cradled nicely between the Rockies and the sea, Vancouver's surrounds roar with the call of wilderness adventure.

11. Hamilton Island, Queensland
In the heart of the Great Barrier Reef in the Whitsunday Islands, Hamilton Island is a slice of tropical paradise in Queensland, Australia. From high-end luxurious hotels to couples' only escapes and family-friendly resorts, there's no shortage of places to stay.

But if hopping between islets, bays and countless dive spots on the move is more your idea of a holiday, a cabin-and-catered Whitsundays sailing experience is just the ticket.
Related: Read our blog on the best 5 Queensland islands to rival a European summer.

10. Bali
The sandy beaches and bustle of Bali are luring travellers in by the plane load. But amid the party atmosphere of this Indonesian island, it's easy to forget that Bali has a deeply religious culture. A few tips of local etiquette include not displaying too much skin away from the beach, taking care not to step on offerings of flowers in the street, and not touching people's heads.

Related: Read our blog on the best things to in Bali.

9. Los Angeles
The City of Angels, LA LA land, and the home of Hollywood – call it what you will, this sprawling symbol of American excess loves to surprise you...for example, Los Angeles has laws against licking frogs (the skin of some local species contain hallucinogens) and dogs mating within 500 yards of a church! Why not? It's the American dream!

And close to LA is Anaheim, which is of course the home of the happiest place on earth, Disneyland California, an absolute must-do for small and big kids.

8. San Francisco
Another amazing American city, San Francisco has a fair share of unmissable experiences and things to do like seeing the famous Golden Gate Bridge, visiting inescapable (ish) Alcatraz, checking out the sea lions at Pier 39, grabbing a bread-bowl clam chowder at Fisherman's Wharf and going for a wonder around the iconic colourful Victorian houses of Hayes and Steiner Streets.

Plus, take a ride in the ultra-famous cable car and you've got yourself the perfect San Fran trip!
7. Tahiti
The major island of French Polynesia offers some of the most stunning overwater bungalows in the Pacific, pristine beaches and some of the world's best surf at Teahupoo on the southern tip of the island (pro level though so if you're a beginner, stay clear).

6. Sydney
Time to visit our mates across the ditch in Sydney! Unlike Auckland's namesake bridge, you can actually walk across the Sydney Harbour Bridge which is a great way to take in some of the best views over the city and harbour, or you can also hire a bike and cycle across, or even better, you can do a bridge climb to the very top and get the adrenalin pumping!

While in Sydney make sure you hang out in the historic district called The Rocks, the very first European settlement in Australia, now full of charm with cobbled streets and heritage-listed buildings. The food scene in The Rocks is simply world class; if you're looking for a très ooh la la fine dining experience we highly recommend Quay Restaurant offering amazing food and stunning views over the Sydney Opera House.

5. Samoa
Samoa is still pretty untouched and not as busy as Fiji can be so a great option for Kiwis who want something a little bit different. The locals are super friendly and the vibe is uber relaxed! There are some great accommodation options for all budgets, from beach fales to lux resorts. There's heaps to do there too, including snorkelling, chasing waterfalls, surfing and more.

Our top recommendation for the most amazing beach on the island of Upolu is Lalomanu Beach, with whiter than white sand and nice warm water. One of the other things not to miss is To-Sua Ocean Trench, a giant swimming hole where you get to go down this humongous ladder and enjoy a dip in crystal-clear waters.
Related: Where to stay in Samoa? Read our blog on our top recommended Samoa beach resorts.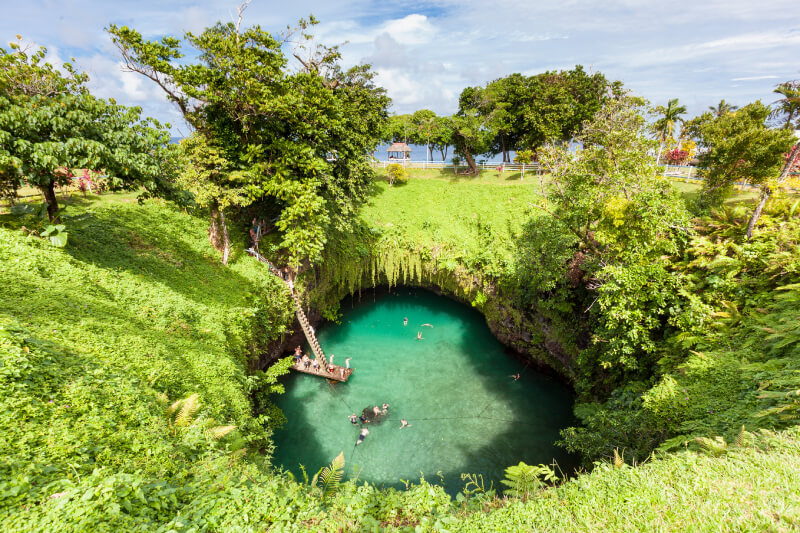 To-Sua Ocean Trench, on the island of Upolu, Samoa. Image credit: Getty Images
4. Gold Coast
Probably the top destination of all time for Kiwi travellers, the Gold Coast is awesome because it's so close, it's warm, there's heaps to do, there is the hustle and bustle of Surfers Paradise or the remoteness of the Hinterland, you can shop up a storm, relax on the beach or surf some of the best waves in Aussie!

Oh and did we mention the theme parks?! Dreamworld, Warner Bros. Movie World, Wet'n'Wild, WhiteWater World and more – pretty much the best family holiday you can ever dream of!
Related: Read our blog on the best beaches, attractions and activities in the Gold Coast.

3. Hawaii
So much more than a handy vacation spot for holiday-makers from North America, East Asia and Australasia, The Hawaiian Islands offer endless adventure, mystique and cultural immersion. The main islands of Ohau, Maui and Kauai have more than enough to see and do for one holiday, so you just need to pick one.

Traditional chants describe how ancient ancestors shaped the islands, casting rivers of fire and water down volcanic peaks tipped with snow into the surrounding ocean defended by goddesses of the sea – and you too can become one for a day. An eco-tour company on Maui offers mermaid adventures, providing mermaid swim lessons and a mermaid tail!

2. Fiji
"Open for happiness" declares Tourism Fiji's official website. Fiji is a warm gathering of over 330 South Pacific islands, brimming with things to do, island fun and relaxation in all its forms.

For an authentic experience, take a guided tour of a local village where you'll be required to offer a gift in a sevusevu (gift giving ceremony) that formally welcomes you into the community. The head of the village will then invite you to a kava drinking ceremony. It's impolite not to accept, and if you're a little shy about experiencing the mesmerising effects of ground kava root, ask for "low tide" and you'll be offered a smaller serving.
Related: Read our blog - 7-Day Fiji Itinerary: Planning a Relaxing Week.

1. Cook Islands
Kia orana to the top destination as voted by Kiwi travellers: The Cook Islands! This tropical paradise is about as laidback as the Pacific gets but there is also plenty to see and do. Muri lagoon on the chief island of Rarotonga offers the best snorkelling experiences.

Swim around the motu (the islets of Taakoka, Koromiri, Oneroa and Motutapu) and out towards the reef where you can expect to meet a variety of tropical fish. On the outlying island of Aitutaki you can get your passport stamped at the world's smallest post office on the tiny motu Tapuaetai, just a short paddle across the island's lagoon.
Related: Where to stay in Rarotonga? Read our blog on the best Rarotonga resorts.
So many places, so much to see and do, and one life waiting to be changed. Begin planning your next holiday to the world here.
Other Travel Articles You Might Like...