We don't have any products online right now but one of our consultants may be able to help you. Enquire now to get access to great deals all over the world.
We can't find any online Rio de Janeiro holiday deals at the moment but one of our helpful Travel Experts can help you find what you're after! Send us an online enquiry or call us on 0800 24 35 44.
Rio de Janeiro Airport (GIG)
Flights from New Zealand to Rio de Janeiro will disembark at Rio de Janeiro/Galeão-Antonio Carlos Jobim International Airport.
In 1999 Rio de Janeiro's principle airport was renamed the Rio de Janeiro/Galeão-Antonio Carlos Jobim International Airport (GIG) after the Brazilian musician Antonio Carlos Jobim.
Airport Accommodation: There are a number of hotels located in close proximity to Rio de Janeiro/Galeão-Antonio Carlos Jobim International Airport. Book your Rio de Janeiro Airport accommodation.
Airlines that fly to Rio de Janeiro
Airlines that offer cheap flights to Rio de Janeiro from New Zealand include:
For more information on airlines that offer flights to Rio de Janeiro, have a look at our international airline page.
It may be Brazil's second largest city, but Rio De Janeiro would have to be the country's most famous destination. Home to beaches made iconic in songs, like Copacabana and Ipanema. The site of the iconic Christ The Redeemer and the city of the famous carnival. Rio has plenty of icons to its name.
Copacabana
At the heart of Rio's reputation is its beloved beach culture. Experience it first hand by taking a stroll or dip at one of the famous beaches including Ipanema, Copacabana, Leme or Arpoador. If the city's itty bitty swim wear is too much for you, you can bare all at Abrico, Rio's only nudist beach.
Another must-see site in Rio is the iconic Christ the Redeemer statue, best reached by taking the funicular train to the top of Corcovado, a 710 metre granite peak and the resting place of the statue. The top of the peak also has a viewing platform that offers incredible views of not only the statue but also Sugarloaf Mountain, as well as downtown Rio and the city's beaches.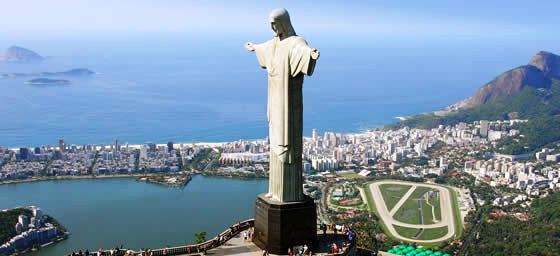 Christ the Redeemer Statue
In addition to its natural beauty, Brazil is beloved for its lively and passionate locals, and nothing brings out the local passion quite like a soccer game. Sports fans won't want to miss seeing a local soccer game at Maracana, the largest football stadium in South America. If you can't get tickets for a game, it is still worth visiting the stadium for the Soccer Museum.
Looking for more than just a flight? A Rio De Janeiro holiday package includes flights, accommodation, and often other extras like tours or car hire. Talk to a consultant today.