We don't have any products online right now but one of our consultants may be able to help you. Enquire now to get access to great deals all over the world.
We can't find any online Kota Kinabalu holiday deals at the moment but one of our helpful Travel Experts can help you find what you're after! Send us an online enquiry or call us on 0800 24 35 44.
Kota Kinabalu Airport (BKI)
Flights to Kota Kinabalu will disembark at Kota Kinabalu International Airport.
Kota Kinabalu International Airport (BKI) is located about 8 kilometres southwest of the city centre. As Malaysia's second busiest airport, Kota Kinabalu is the main gateway into the state of Sabah and into Borneo.
Airport Accommodation: There are a number of hotels located in close proximity to Kota Kinabalu International Airport. Book your Kota Kinabalu accommodation.
Airlines that fly to Kota Kinabalu
Airlines that offer cheap flights to Kota Kinabalu from New Zealand include:
For more information on Kota Kinabalu holidays check out our Kota Kinabalu travel guide.
Kota Kinabalu is the perfect place from which to experience the incredible diversity of Borneo. From here you can easily access picture-perfect tropical islands, dense rainforest teeming with wildlife, and of course spectacular Mount Kinabalu.
Mount Kinabalu
Just off the coast of Kota Kinabalu is the Tunku Abdul Rahman National Marine Park, consisting of five islands and their surrounding coral reefs. The region offers countless opportunities for fantastic snorkelling and scuba diving, with abundant marine life and colourful coral. Day trips are easily organised from hotels and tour offices in Kota Kinabalu.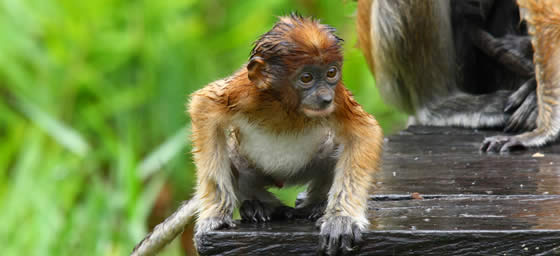 Baby Proboscis Monkey
If you're more of a land creature, check out Kinabalu Park, Malaysia's first World Heritage site. The park is home to a huge array of flora of fauna and amazingly contains four different climate zones. Also within the boundaries of the park is Mount Kinabalu, the highest peak in Malaysia and Borneo. Hundreds of climbers arrive at Kinabalu Park every day to take on the summit of this impressive mountain.