We don't have any products online right now but one of our consultants may be able to help you. Enquire now to get access to great deals all over the world.
We can't find any online Cancun holiday deals at the moment but one of our helpful Travel Experts can help you find what you're after! Send us an online enquiry or call us on 0800 24 35 44.
Cancun International Airport (CUN)
Cancun features three terminal buildings. Flights operated by U.S. airlines arrive and depart from Terminal 3. Aero Mexico flights from the U.S. arrive at Terminal 2. The airport is about a 25 minute drive to the city and transportation is readily available. Taxis, shuttle buses as well as car rentals can be arranged from the airport.
Cancun continues to be one of the most popular tourist destinations in the world. Sunny days one after the other, endless stretches of magnificent white sand beaches with vibrant blue ocean waters and a restaurant and night life scene that will keep even the biggest party goers occupied for a long, long time. Cancun's location on the Yucatan Peninsula means that it's in close proximity to not only great beaches, but also fun filled islands, lush rainforests, ancient Mayan ruins and a host of other incredible natural wonders.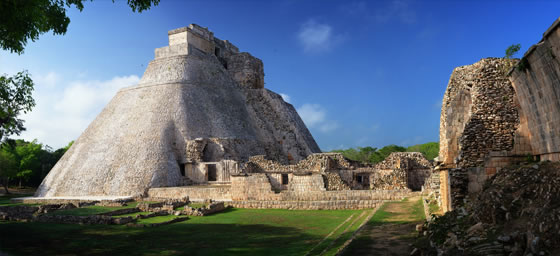 There is so much to offer in Cancun that visitors can create the perfect holiday no matter what their interest. Cancun is filled with so many activities that it's hard to know where to begin. All the popular beach activities are here, including beach volley ball, swimming, jet skiing and more. There's even an underwater museum just off the coast featuring sculptures that are metres below the surface making for a unique scuba diving and snorkelling site. Of course if it's a more leisurely pace you're after, Cancun offers great outlets for rest and relaxation. Sit pool side at one of the many resorts, order a cocktail or indulge in a spa treatment. When you're ready to hit the beach, just find a secluded spot, grab a lounge chair and enjoy a good book. No matter what kind of holiday you desire, Cancun will not disappoint.